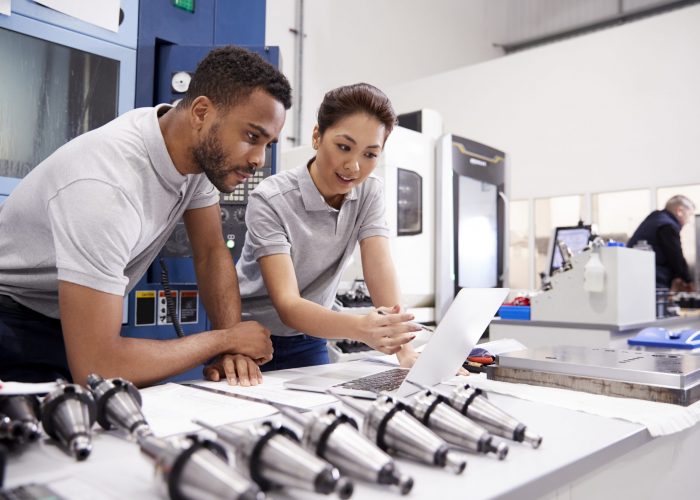 Next-gen manufacturing is the new industrial revolution
When we think of a manufacturing plant, we often picture a highly-optimized assembly line with hundreds of units rolling off the line each second. In practice, most manufacturing sectors are still far away from adopting this level of efficiency. That's because manufacturing automation is very expensive and frequently less efficient—the machinery is costly and requires customization, and people still reliably outperform robots on tasks requiring fine motor skills and frequent context switching.
These constraints mean traditional manufacturing automation only becomes cost-effective when you can amortize that investment across tens of thousands—if not hundreds of thousands—of units.
We don't need hundreds of thousands of units of most products. We want the product that best meets our needs, regardless of the size of the market for it. That's why most manufacturing sectors, which make everything from furniture to rocket ships, have not undergone the transformation of mass manufacturers. Manufacturers specializing in these low-volume products tend to take on a wide mix of product variations that are customized for each client, requiring frequent process changeovers for every new design. These high-mix, low-volume processes are less efficient than mass manufacturing: highly manual processes are more prone to error, smaller batches make the relative cost of rejected units higher, and frequent changeovers make small inefficiencies compound over time. These issues are not only costly to the manufacturer—they also cause subpar experiences for customers due to long lead times, order delays, and cost overruns.
We believe that better data collection, workflow automation, and machine-learning-driven optimization can transform high-mix, low-volume manufacturing to achieve the same efficiency and scalability of mass manufacturing, at a lower cost. We've invested in a handful of companies that are bringing this thesis to life and transforming their industries, for example:
Tempo Automation—An automated printed circuit board (PCB) factory that enables designers of electronics goods to iterate, test ideas, and develop more products through a data-driven, turnkey PCB assembly process.
Made and Modern—100% custom direct-to-consumer furniture manufacturing that uses computer vision, fabric-draping AI models, and material mechanical performance models to take 2D images of furniture and convert them into customizable 3D renderings and construction recipes, making it possible for them to create furniture exactly to their customers' specifications.
Printforia—Direct-to-garment apparel customization that uses computer vision to continuously check whether each drop of ink is deposited correctly on the garment and automatically adjusts the printhead to account for folds or wrinkles in the fabric so that the image comes out perfectly the first try.
The playbooks for manufacturing transformation are unique to each sector, but successful companies will instrument every unit and process to ensure that mistakes are corrected on the fly; workers receive the right instructions at the right time; and the feedback loop makes the production of every subsequent unit more efficiently than the last.
We are backing companies that change not only how things are made but can reinvigorate manufacturing as an industry by moving away from inefficient, one-size-fits all models to smaller-footprint, bespoke products on demand. We think that's exciting.
This is not an advertisement nor an offer to sell nor a solicitation of an offer to invest in any entity or other investment vehicle.  The information herein is not intended to be used as a guide to investing or as a source of any specific investment recommendation, and it makes no implied or express recommendation concerning the suitability of an investment for any particular investor.  The opinions, projections and other forward-looking statements are based on assumptions that the authors' believe to be reasonable but are subject to a wide range of risks and uncertainties, and, therefore, actual outcomes and future events may differ materially from those expressed or implied by such statements.  Point72 Private Investments, LLC or an affiliate may seek to invest in one or more of the companies discussed herein.