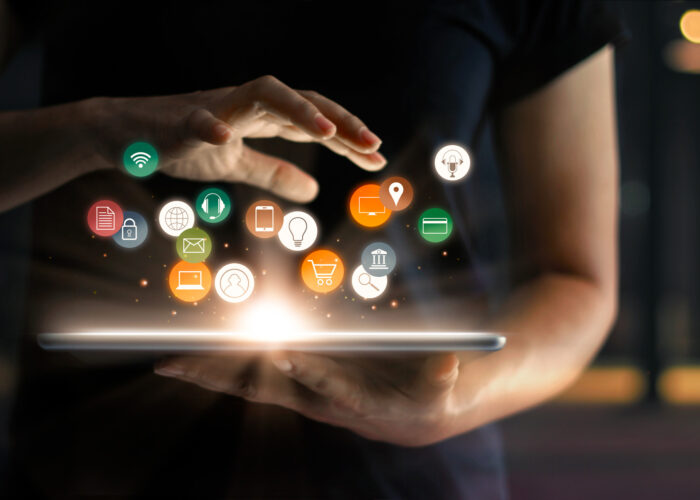 The Next Technological Shift – Why we believe now is the time to invest in consumer technology
We are thrilled to announce the official launch of Point72 Ventures' Consumer and Media investment strategy. With evolving consumer trends reshaping the industry, we believe the time is right for a dedicated approach to investing in the next frontier of consumer technology.  
Since 2016, Point72 Ventures has invested more than $1 billion in over 100 early-stage companies. While our focus has predominantly been in Fintech, Deep Tech, Defense Tech, and Enterprise technologies, we've invested in several exciting consumer companies and assets over the years. 
Our team has spent time studying the consumer landscape, building an investment thesis, and backing founders we believe in, all of which have culminated in this new strategy. 
Why now?

We believe we are simultaneously experiencing

multiple

paradigm

shifts

with

in consumer technology

and beha

vior.
Traditional customer acquisition has become more challenging, but we think the best founders are still finding ways to attract and retain users. We believe Apple's App Tracking Transparency policy has categorically upended the way businesses acquire customers. Users can now opt out of in-app data tracking across different apps and websites, which makes it more challenging and expensive for companies to deliver targeted advertising. As a result, founders looking to target a consumer audience must find new and unique ways to acquire and engage users. 
Consumers are changing the way they interact with technology. At the heart of humanity lies the need for community and connection – nearly 76% of internet users participate in an online community, whether it's a Facebook group that discusses the happenings of their neighborhood, a sub-Reddit for their favorite TV show, or a website specific to their interests or hobbies. At the same time, around 64% of online community site visitors say they are visiting those sites more often now than they did before. On top of that, personalization has evolved from a "nice-to-have" to a "must" in consumers' technology expectations; right now, 71% of consumers expect companies to deliver personalized interactions. We believe these numbers are only amplified for Gen Z cohorts, who will soon have meaningful purchasing power. 
We're in the early innings of the next technological shift in consumer technology. The early 2000s saw the commercialization of the internet. The early 2010s saw the commercialization of mobile. The early 2020s have brought the commercialization of AI and immersive technologies. We believe the ability to enable interactivity in engagement, augment traditionally less efficient workflows, and create new content at scale, has the potential to accelerate the formation of new consumer businesses across a number of categories, which we lay out below.  
Content is king and the Creator Economy is the fuel. We see content as the digital currency of consumer businesses, as social media platforms like Instagram and TikTok deploy content-led algorithms.  The creator economy is estimated to be worth more than $100 billion, and more than 50 million people worldwide consider themselves content creators. We envision creators becoming a driving force in bringing together digitally native communities, since high-quality content from trusted creators drives meaningful engagement. Additionally, we think generative AI is removing once-high barriers for creative pursuits, allowing anyone to create in ways they couldn't before.  
Also, people now spend record amounts of time and money online and engaging with technologies in new ways, giving us conviction that the next generation of breakout consumer technology businesses will be built alongside these macro shifts.
Why us?
We are thematic investors at our core…
We think consumer investing is unique among other categories in that its sub-verticals have little overlap. For example, gaming, commerce, and entertainment all operate very differently, and each individual category calls on investors to develop verticalized knowledge.
We believe this uniqueness is a great match for our firm's thematic approach: we try to dive deep, ask questions, and leverage our internal resources to come to a data-driven view on who the winners in that category will ultimately be.
…and we are not afraid to invest early…
Our thematic approach to investing means that we can get to conviction on an idea very early. We do our work to identify white space in a market – often hand-in-hand with a potential founder – and are prepared to invest in businesses as early as incubation. Our mandate allows us to invest early while still being able to support you as you grow.
…and we can help you along the way.
The incredible assets that Point72 and Steven Cohen have assembled over the years give us front row seats to changing market dynamics while also providing us with tools to help founders unlock distribution.
Steve's ownership of the New York Mets gives us a unique window into the world of sports and the technologies and communities built around them. Additionally, our partnership with Range Media Partners, a technology-forward talent agency representing A-list celebrities, creators, and athletes, provides us with unique access to the nuances of the entertainment industry.
We understand that technological innovation is not happening in a vacuum – it is happening in the context of complex industries and ecosystems that founders need to navigate. We believe these assets lend expertise and allow us to lean into emerging opportunities, while also providing industry access to our portfolio companies.
What are we excited about?
At Point72 Ventures, we're focused on key consumer sectors and are asking questions to frame our research and identify emerging trends, including:
Media & Entertainment. How will generative AI augment the creators in their respective fields? We recently invested in GlobalComix, a subscription service platform for comic book readers, which is actively building out AI tooling for its creators to bring comics to their readers faster. How is generative AI going to impact content creation in other fields like film and music? AI can enable meaningful interactivity with content – do consumers want this? How does the entertainment industry need to change if we're going to have an explosion in the supply of new, interactive content? For example, how will consumers discover new content? How will creators finance new content?
Sports. Sports franchises seem to only rise in value and we believe the increasing influx of institutional capital will force investors to think about how to monetize these assets more effectively. Importantly, we believe fan engagement is at an inflection point: Gen Z interacts with leagues and teams differently than older generations. What does the future of fandom look like? How will businesses capture this? What technologies and channels are resonating with younger cohorts?
Education Technology. The pandemic was a major setback for public education; U.S. children's test scores are significantly lower than pre-pandemic levels as they struggle to catch up. School systems across the nation are dealing with crowded classrooms and staffing shortages. Can AI level the playing field by offering 1×1 experiences? How can we capture the attention of a young student with technology? For adults, generative AI is set to automate a significant number of jobs; what does the future of reskilling look like?
Consumer Health. We were lucky to have participated in one of the last big consumer health trends in connected fitness with an early investment in Mirror. Fitness is the fastest growing Gen Z spending category, growing 37% YoY. What's the future of data-driven and personalized consumer healthcare?
Commerce. Commerce has already been moving towards hyper-personalization. What does AI unlock in new commerce experiences? How does Gen Z's shopping habits differ from older cohorts? How does sustainability impact supply chains, shopping habits, and other considerations?
Please reach out…
We are also looking at travel, gaming, and other verticals – and we want to hear from you to learn what you're working on. We are excited to embark on this new journey and partner with outstanding founders that actively push the boundaries within consumer and media. Please reach out if you are…
A founder of an innovative early-stage business in consumer or media.
Someone with deep domain expertise in any of the above categories who wants to found a business in the space and would like a sounding board.
Leveraging tailwinds in new technologies such as generative AI to empower new consumer applications and businesses.
This is not an advertisement nor an offer to sell nor a solicitation of an offer to invest in any entity or other investment vehicle.  The information herein is not intended to be used as a guide to investing or as a source of any specific investment recommendation, and it makes no implied or express recommendation concerning the suitability of an investment for any particular investor.  The opinions, projections and other forward-looking statements are based on assumptions that the authors' believe to be reasonable but are subject to a wide range of risks and uncertainties, and, therefore, actual outcomes and future events may differ materially from those expressed or implied by such statements.  Point72 Private Investments, LLC or an affiliate may seek to invest in one or more of the companies discussed herein.