At Point72 Ventures, we've been active investors in fintech startups across both developed and emerging markets including Asia, the Middle East, and Latin America. In this piece, we dive into the evolution of the financial infrastructure landscape in Latin America.
Re-bundling fintech in Latin America
Launching a fintech product in Latin America a decade ago was no easy feat. Regulation at the time made it difficult to launch financial offerings independently, and entrepreneurs had no choice but to partner with financial services incumbents and legacy technology vendors to bring their product to market. As a result, launching a fintech offering tended to be expensive, slow, and require significant domain expertise.
Given the high barriers to entry, first movers in the region typically started out as point solutions targeting specific product verticals such as banking, lending, or investing, among others. Our portfolio company Ualá launched with a simple prepaid card in Argentina while Covalto offered secured loans to small businesses in Mexico.
In order to fend off competition and avoid commoditization of their core offerings, more mature fintech startups in Latin America have come under pressure to expand their product sets. Today, both Ualá and Covalto have transformed from mono-product solutions to one-stop-shops offering a wide array of financial services. Rather than rely on financial institution partners, both companies acquired legacy banks.
At the same time, we believe non-financial companies such as marketplaces, enterprise software providers, proptechs, and even ride-hailing players are also looking to incorporate financial products that generate new revenue streams and increase the stickiness of their client bases. Our portfolio company Contabilizei in Brazil launched as an accounting software product for small businesses, but later expanded their offering by embedding bank accounts, payments solutions, and other financial services. Likewise, our portfolio company Influur offers cross-border payouts as part of their marketplace for influencers and brands in the U.S. and Latin America.
Developing a new financial infrastructure layer
Fortunately for companies today, we believe it has never been easier or cheaper to launch a fintech product in Latin America. Thanks in part to the success and scale of first movers in the region, incumbents ranging from MasterCard to Amazon Web Services now have dedicated teams focused on startups. Likewise, companies don't need to acquire a legacy bank license in order to operate – local central banks have rolled out new regulatory frameworks with lower capital requirements in an effort to shake up entrenched banking oligopolies.
In response to rising demand, an entire ecosystem of financial infrastructure startups has emerged that enables companies to on-board users, facilitate payments, unlock alternate data, and embed a wide range of financial products in a seamless and cost-effective manner: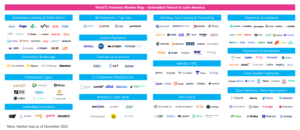 Building blocks for the next wave of innovation
These embedded solutions will enable entrepreneurs to launch the next generation of digital banks, investing apps, lenders, and payments companies in Latin America. For example, our portfolio companies DriveWealth and Zero Hash enable companies in the region to launch stock and crypto trading products. Notably, by building on top of de novo infrastructure, these new entrants have the capability to launch faster while potentially avoiding the technical debt incurred by their predecessors.
At the same time, mature startups adopting embedded finance solutions may increasingly resemble super apps, offering everything from crypto to cell phone plans and even embedded marketplaces. Thanks to new embedded solutions, some of the largest fintech companies of the next decade in Latin America may not come from financial services origins at all.
We believe embedded solutions will also optimize a variety of business processes for both startups and corporates. For example, our portfolio company Incognia provides frictionless mobile authentication in order to decrease fraud rates, while Syncfy provides centralized API access to financial data that can be utilized for user on-boarding, underwriting, and other use cases.
Even more exciting, this infrastructure layer has the ability to produce entirely new business models made possible by modular product capabilities. For example, our portfolio company Ontop built a global payroll solution with USD accounts powered by next-generation infrastructure. This type of platform would have been highly cost-prohibitive and taken significant time to launch even a few years prior.
We believe innovation will only continue to accelerate in the region as financial infrastructure players lower barriers to entry for launching new products and business models. We believe we are still in the early innings of the fintech revolution in Latin America and will continue to actively pursue investment opportunities in both financial infrastructure as well as the next wave of platforms built on top.
Why startups work with Point72 Ventures?
Point72 Ventures is a global venture capital strategy led by a diverse set of domain experts with the capital and mandate to lead rounds through all stages of a company's growth, from idea to IPO. The team invests in founders with bold ideas who use the latest technologies to drive transformational change across industries. Point72 Ventures offers entrepreneurs access to expertise and insights, executive and technical talent, and hands-on support. Point72 Ventures is an affiliate of Point72, the global asset manager founded by Steven A. Cohen.
The Point72 Ventures fintech investment team has deep expertise in financial services and technology, with over 100 years of combined experience across our team and an active portfolio of nearly 50 fintech companies.  We work with our portfolio companies on everything from go-to-market strategy to fundraising to business development to helping build the right product. We are applying this expertise, and resources to a growing portfolio of Latin America investments.
Please reach out if you are…
Building a financial infrastructure company in Latin America. We are focused on investing in companies from first money in up to seed and Series A.
A financial institution, fintech, or enterprise in Latin America looking to partner with financial infrastructure partners.
Looking to make the career leap into Latin America fintech. Our portfolio companies Contabilizei, Covalto, DriveWealth, Incognia, Influur, Ontop, Syncfy, Ualá, and Zero Hash are all hiring for various roles. You can find open positions here.
Latin America @ Point72 Ventures
This is not an advertisement nor an offer to sell nor a solicitation of an offer to invest in any entity or other investment vehicle.  The information herein is not intended to be used as a guide to investing or as a source of any specific investment recommendation, and it makes no implied or express recommendation concerning the suitability of an investment for any particular investor.  The opinions, projections and other forward-looking statements are based on assumptions that the authors' believe to be reasonable but are subject to a wide range of risks and uncertainties, and, therefore, actual outcomes and future events may differ materially from those expressed or implied by such statements.  Point72 Private Investments, LLC or an affiliate may seek to invest in one or more of the companies discussed herein.